Virtual reality (VR) technology has evolved significantly over the past few years, from being a source of entertainment to becoming a valuable tool for training and education. An exciting realm it has stepped into is fostering workplace inclusivity. This article will explore how does virtual reality help to make work experiences more inclusive?
The Importance of Workplace Inclusivity
Inclusivity is paramount in any work setting. It not only encourages respect and cooperation among team members but also fosters creativity, innovation, and overall team productivity. The most successful organizations today appreciate the value of diversity and work relentlessly to create a nurturing and inclusive environment for all their employees.
Virtual Reality and Its Role in Fostering Workplace Inclusivity
This immersive technology enables users to interact with a computer-generated environment using various sensory inputs. But how does it contribute to creating a more inclusive work experience?
VR for Diversity and Inclusion Training
VR presents a unique, immersive platform for diversity and inclusion training. It allows employees to "walk a mile in someone else's shoes," experiencing firsthand the challenges faced by their peers from different backgrounds. This empathetic understanding encourages a respectful and inclusive work culture.
VR Simulations for Understanding Challenges
Another advantage of VR is its ability to create simulations reflecting the challenges faced by marginalized groups. These experiences help foster understanding and empathy among employees, directly contributing to a more inclusive workplace environment.
Enhancing Employee Engagement and Collaboration
VR also enhances employee engagement and collaboration, especially in diverse teams. By facilitating shared experiences and promoting empathy, VR contributes significantly to fostering a culture of mutual respect and understanding.
Promoting Equal Opportunities
Lastly, VR can help promote equal opportunities by addressing unconscious biases that often exist within organizations. By immersing employees in different scenarios, VR helps them recognize and address these biases, fostering a more inclusive work environment.
Case Studies of Companies Using VR for Inclusion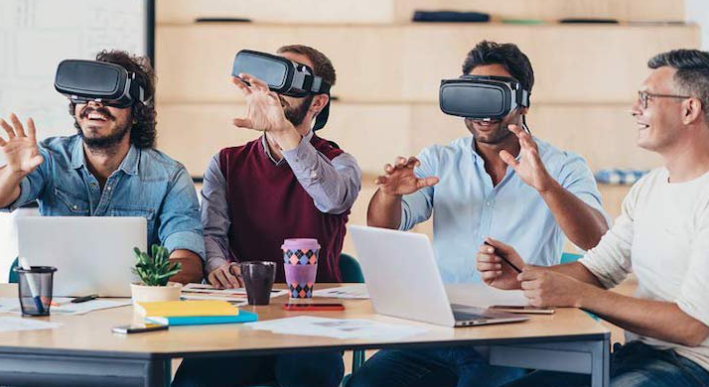 Many companies are already harnessing the power of VR to create more inclusive work environments. For example, Vantage Point has created VR-based diversity and inclusion training programs that allow users to experience discrimination from a first-person perspective, helping them understand its impact.
Similarly, Strivr, a leader in VR training, has created immersive experiences for its clients to promote empathy and understanding among employees. These successful case studies underline the transformative potential of VR in fostering inclusivity in the workplace.
Measuring the Effectiveness of VR in Fostering Inclusivity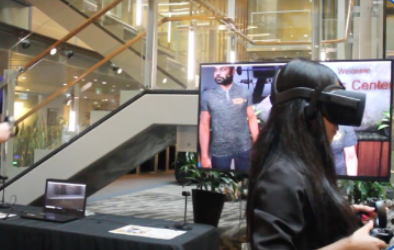 While anecdotal evidence and case studies highlight the potential of VR in fostering workplace inclusivity, measuring this effectiveness is equally important. Surveys and feedback can be useful tools to gauge the impact of VR training on employees' attitudes and behaviors.
VR Technology for Workplace Diversity and Inclusion: An In-depth Look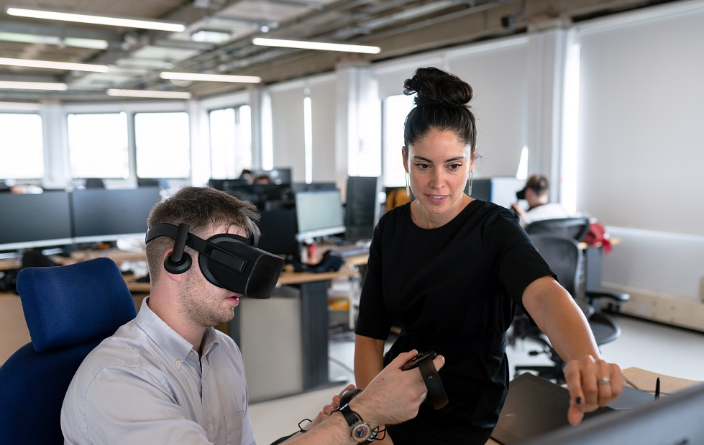 Beyond its entertainment and gaming applications, virtual reality is fast transforming into a revolutionary tool in the domain of human resources and corporate training. Let's delve deeper into how VR is helping to shape the modern, inclusive workplace.
Overcoming Geographic and Physical Barriers
One of the principal advantages of virtual reality technology in a professional setting is its ability to overcome geographic and physical barriers. Global companies can connect teams across different continents through VR, allowing them to share the same virtual space, collaborate in real-time, and develop a sense of camaraderie that might be challenging to achieve through traditional video conferencing.
Additionally, VR also provides opportunities for employees with physical disabilities, offering an inclusive platform for participation, learning, and interaction that might not be possible in a conventional office setup.
Enhancing Learning Experiences
The immersive nature of VR is conducive to enhanced learning experiences, which is particularly impactful in diversity and inclusion training. For example, using VR, employees can explore environments that depict the daily experiences of people with disabilities. This type of immersive learning cannot be replicated through traditional training methods and opens up new avenues for empathy and understanding.
Furthermore, VR can be instrumental in helping employees understand the nuances of different cultures, thus promoting cultural sensitivity in global teams.
Addressing Unconscious Bias
Another crucial aspect of promoting diversity and inclusion in the workplace involves addressing unconscious bias. Unconscious bias refers to the prejudices we harbor unknowingly, which can lead to discriminatory behavior. VR simulations can recreate scenarios that expose these biases, helping employees acknowledge and address them. This forms a critical part of promoting an inclusive work culture.
Preparing for Difficult Conversations
VR can also be used to prepare managers and employees for potentially challenging conversations around diversity and inclusion. By simulating these situations, VR can provide a safe and controlled environment for employees to practice and prepare for these discussions, thereby equipping them with the necessary skills and confidence.
Future of VR in Creating Inclusive Work Environments
As VR technology continues to evolve, we can expect it to play an even more significant role in fostering inclusive work experiences. Companies can use VR to create more personalized and nuanced training programs that cater to the specific needs and backgrounds of their employees.
Further, as technology becomes more affordable and accessible, we can expect to see more widespread adoption of VR in the workplace, even in smaller companies.
FAQs About How Does Virtual Reality Help to Make Work Experiences More Inclusive?
How is virtual reality used to promote diversity and inclusion in the workplace?
Virtual reality is used to create immersive training programs that help employees understand the importance of diversity and inclusion. It also helps address unconscious biases by allowing employees to experience situations from different perspectives.
What are the benefits of using VR for diversity training in organizations?
The main benefits of using VR for diversity training include promoting empathy and understanding, fostering a culture of mutual respect, and enhancing collaboration among diverse teams.
Can VR be used to address unconscious bias in the workplace?
Yes, VR simulations can effectively address unconscious bias by immersing employees in situations that help them recognize and confront their biases.
What types of diversity and inclusion issues can VR simulations address effectively?
VR simulations can address a wide range of issues, including racial and gender bias, discrimination, and lack of empathy towards colleagues from different backgrounds.
How can organizations measure the effectiveness of virtual reality in fostering workplace inclusivity?
The effectiveness of VR in fostering workplace inclusivity can be measured through various means, including surveys, feedback, and monitoring changes in workplace behavior over time. The most effective programs will see an increase in diversity, empathy, and understanding, and a decrease in instances of bias or discrimination.
Are there any best practices for designing VR experiences that promote diversity and equal opportunities?
The best VR experiences for promoting diversity and equal opportunities are those that foster empathy and understanding. This can be achieved by designing simulations that allow users to experience situations from the perspective of different groups and backgrounds.
What are the potential challenges in implementing VR for inclusive work experiences?
Some potential challenges in implementing VR for inclusive work experiences include technological limitations, initial investment costs, and resistance from employees who may be unfamiliar with VR technology. However, with proper planning, training, and communication, these challenges can be effectively addressed.
Also Read: Quantum Computing for Everyone [2023]
Conclusion
With a potent mix of empathy, understanding, and immersive experiences, VR is a powerful tool for organizations to promote diversity and inclusion. Its ability to create shared experiences, promote understanding, and foster empathy makes it an invaluable asset in the pursuit of a more inclusive work environment.
While implementing VR in the workplace might present its challenges – from technological limitations to the initial investment – the potential benefits far outweigh the initial hurdles. As we move into the future, VR promises to be a game-changer, paving the way for a more inclusive, understanding, and empathetic work environment.
In wrapping up this article, we aspire to have given you a comprehensive understanding of "How Does Virtual Reality Help to Make Work Experiences More Inclusive?" and its implications, arming you with the knowledge necessary to navigate this area successfully.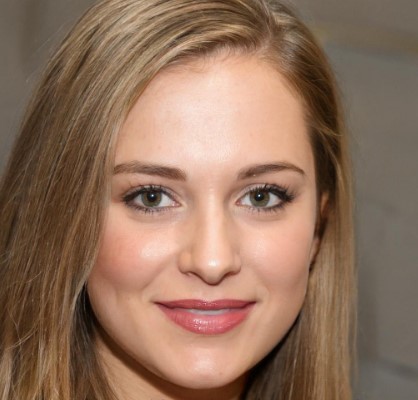 A captivating wordsmith and dynamic blogger. With her pen as her wand, she weaves enchanting tales and thought-provoking insights that leave readers spellbound. Embrace the magic of her storytelling prowess and embark on an unforgettable literary journey with this talented writer.